The Washington Business Re-Entry (BRE) registration system provides statewide consistency in identifying business representatives with a critical need to access facilities or infrastructure located within a disaster impacted area. It serves businesses by informing emergency managers at the state, county and city level about the access and re-entry needs of businesses affected by disaster.
Important Note: The BRE Registration System is specifically intended to provide access to communities and facilities. If you are a freight mover seeking priority access through a detour route during a major transportation disruption, you need to apply for Washington State Department of Transportation (WSDOT) Commercial Vehicle Detour Pass: wsdot.wa.gov/commercialvehicle/detourpass.htm.
How it Works
BRE Registration is a voluntary information sharing system that provides standard access/re-entry protocols for use following a disaster or incident. Private sector organizations (busiensses) participate by registering at any time (not just in the event of a disaster). Registration information will be confirmed annually, and accounts will remain active indefinitely if the business responds to annual verification of information and does not violate the conditions of the program. EMD provides local (city & county) emergency management organizations access to a database of registrations to make informed decisions when conducting re-entry operations. This provides a statewide standard process, with the goal of simplifying the identification of businesses with a need to access affected communities or damaged infrastructure/facilities. The BRE Registration program expedites business access to impacted areas to enhance response and recovery operations, strengthen the resiliency of the commercial sector and support economic recovery. However, BRE Registration does not grant or guarantee right of access. Access remains solely within the control of the county or city with authority over the affected area.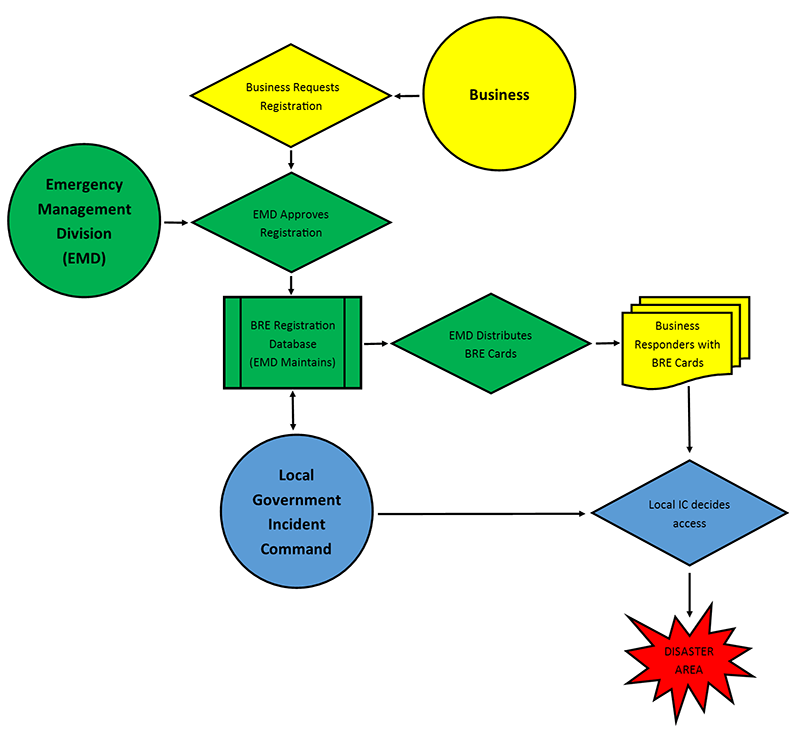 Who Should Register
BRE Registration is designed for private sector organizations with a need to conduct response and recovery operations, protect critical infrastructure, perform damage assessments, complete essential repairs and/or preserve critical business functions. Private sector organizations that fall within the following categories are encouraged to register for the program:
1.  Association with an owner or operator of "critical infrastructure" qualified under one of the 16 Critical Infrastructure Sectors as defined by the Department of Homeland Security;
2.  An Insurance provider with policies impacted by the disaster/incident; or
3.  Businesses with immediate need to access infrastructure/facilities to preserve critical business functions or perform damage assessments. "Critical business functions" may include a wide range of business actions, activities, or processes. These functions are critical to business operations and their restoration or maintenance may be time sensitive.
Find more information at mil.wa.gov/business-re-entry-registration.