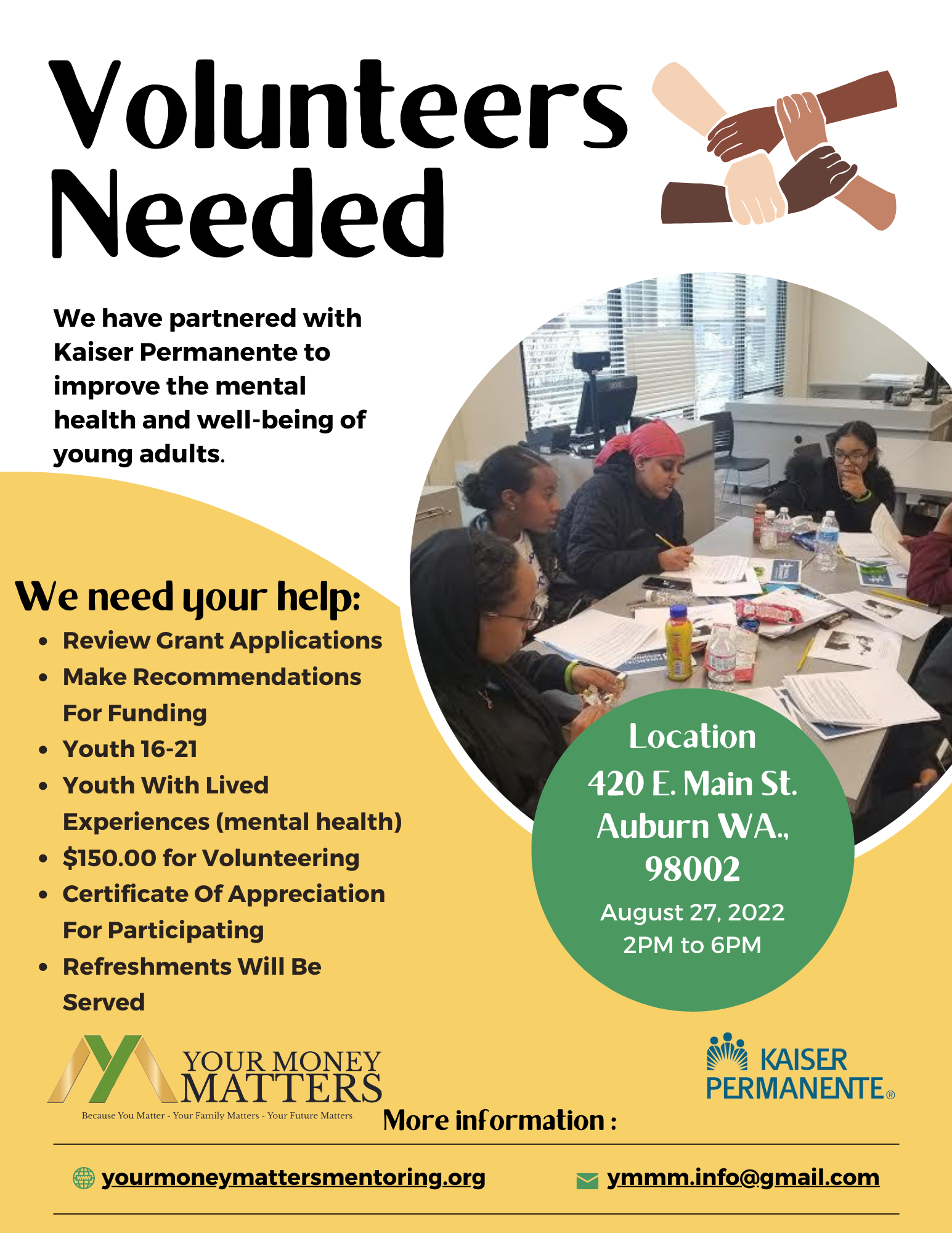 The mental health and wellbeing of BIPOC youth and young adults is crucial to our nation's recovery from COVID-19 and a critical part of beginning to heal institutional and systemic racism. The absence of community voice for BIPOC youth and young adults ages 13-25 in the design, identification and evaluation of culturally responsive mental health and wellbeing supports creates barriers to care resulting in higher ED visits, suicide attempts and death.
Your Money Matters Mentoring proposes a partnership with Kaiser Permanente to get input from BIPOC youth and young adults on applications submitted for this RFP. Youth and young adults have unique wisdom to share in the selection of programs and activities intended to improve their mental wellbeing.
As part of the design process for this initiative, YMMM has been recommended as a trusted leader to host and facilitate a workshop to help shape and advise KP's decision-making. They are looking to recruit 15 to 20. BIPOC youth and young adults 16-24 in Pierce and King County to participate in a 4-hour workshop on Saturday August 27th from 2:00pm to 6:00pm. This will take place at YMMM office located at 420 E. Main St Auburn WA, 98002.
The purpose of the workshop is to:
1. Provide guidance based on lived experience, to help Kaiser Permanente on strengths and challenges for this RFP proposal.
2. Teach grant review skills to youth and young adults.
3. Teach youth and young adult's skills that will translate their unique wisdom into constructive feedback based on a specific project. This is a valuable workplace skill worthy of this 4- hour workshop.
4. Provide community voice from youth and young adults with lived experience, past or present, who are experiencing a mental health condition.
5. Allow youth to provide guidance in the selection of Kaiser Permanente's mental health and wellbeing funding initiative as related to the treatment for BIPOC youth and young adults.
Please contact and send the following information to YMMM staff at [email protected]
The deadline for youth interested to sign up will be Friday August 19, 2022, 5pm
Each participant will receive $150.00 for participating. Refreshments will be provided.
Youth's Name:
Youth's Age:
City where they live:
Ethnicity:
Contact number for youth:
Who is referring youth/Name and Contact information:
Please contact Clinton Taylor Executive Director
503.415.0542