Business ad space reservations are now open to be featured in the 2022 Auburn Area CONNECTOR Visitor & Business Guide.
Dear Chamber Partners,
We invite you to showcase your business in The 2022 Auburn Area CONNECTOR. It's a great opportunity to be part of Auburn Area's diverse business community that continues to lead our region's growth.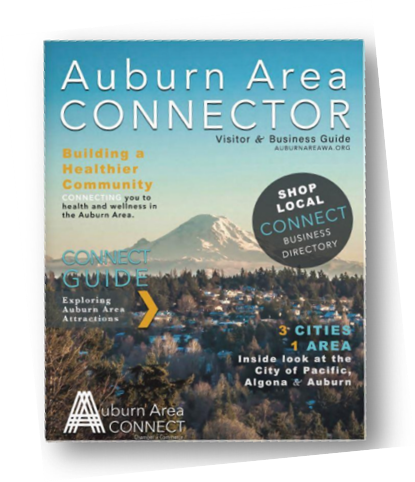 Connect with thousands of visitors, newcomers and fellow chamber and community members to help expand and market your services to Auburn and beyond.
Expand your online visibility:
Our publishing partner Town Square Publications will produce the 2022 full-color printed edition. The online and mobile editions with links to advertiser's website and Google map locators will be accessible from the Chamber's home page and Town Square's National Profile Network, further extending the exposure of your advertising message and increasing your search engine optimization.
Don't miss the opportunity to promote your business to visitors, newcomers, residents and business owners!
Our representative from Town Square Publications is Dac Randall. You may reach Dac by completing THIS FORM and faxing to Dac at Town Square Publications: (800) 621-0256. Or, call Dac at (253) 861-6509, or email to [email protected] to review the details.

Creating tools for your success,
Kacie Bray
President & CEO