The Auburn Area Chamber of Commerce is pleased to recognize Merrill Gardens as the Auburn Area CONNECT "Business of the Month" for the month of December 2019. This honor recognizes those businesses in the Auburn Area that employ local professionals, provide a consistent and superior customer experience, and remain actively engaged in the Auburn Area community, while delivering exceptional products and services.
Merrill Gardens provides caring and compassionate senior living options, including both retirement and assisted living, as well as memory care. Located in the heart of downtown Auburn, Merrill Gardens offers easy access to nearby medical facilities, transit options and basic services and entertainment.
While current residents range in age from 67 to 102 years, Merrill Gardens knows that age is just a number! Joining the Merrill Gardens community means "new possibilities" in a "Yes, You Can!" environment of freedom and flexibility. Click here to view photos, 360 views and take a live virtual tour of Merrill Gardens online.
***
Auburn Area Chamber staff wanted to learn more about Merrill Gardens and the services they provide to their residents and the Auburn Area. Here is what we learned!
Auburn Area Chamber (AAC):  Tell us about the business and what chamber members might want to know about Merrill Gardens.
Merrill Gardens (MG):  Merrill Gardens was founded in 1993 as developer, owner and operator of senior living retirement communities offering independent living, assisted living and memory care. Over the course of its history, Merrill Gardens has served over 60,000 senior residents, and the company has owned or managed 120 communities in 17 states. Currently, the company operates 33 communities in eight states (Alabama, Arizona, California, Florida, Georgia, Nevada, South Carolina and Washington) and three communities in China. Merrill Gardens continues to be recognized for setting the standard for quality and innovation.
Merrill Gardens was built on the belief that every life is defined by possibilities, not limitations, and the company fosters a Yes You Can! culture by providing an inspiring environment for residents, families and team members. This is what fuels the company's passion and purpose and this commitment to culture led to recognition as a 2018 Best Workplace for Aging Services by Fortune Magazine [Click here to read more]. Merrill Gardens has also received numerous awards for innovation for industry leading programs such as the exclusive Anyime Dining program and the Active Living willness program.
Over the last quarter century, Merrill Gardens has developed 39 senior living communities in some of the most desirable areas of the country, including Auburn, WA, and the company continues to grow, developing new communities at the rate of three to four per year in emerging markets. Each Merrill Gardens community reflects the characteristics of the area where it is located and the needs and interests of residents. The community designs have been recognized with numerous awards, including a Finalist Award from the prestigious Urban Land Institute [Click here to read more].
The management and resources of the R. D. Merrill Company ensure high standards of service and long-term commitment to quality, security, choice and privacy in all Merrill Gardens communities and they practice them wholeheartedly.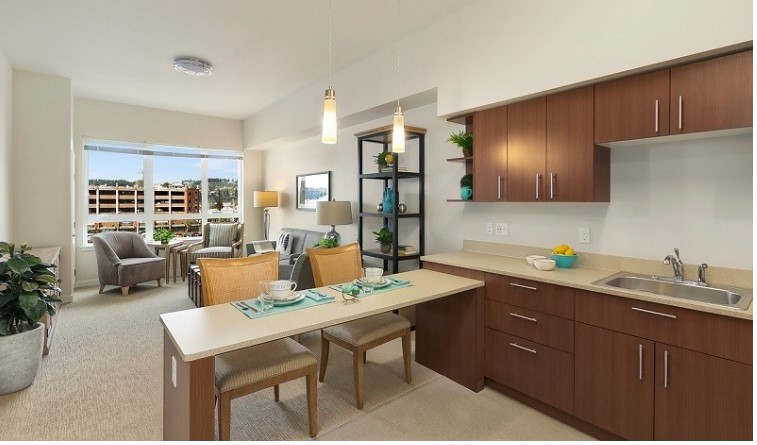 AAC:  How many Merrill Gardens employees live and/or work in the Auburn Area?
MG:  62 employees
AAC:  Why is Merrill Gardens a great place to work?
MG:  At Merrill Gardens, family means everything to us. From the communities we create to the connections we make with residents, everything we do is rooted in our history as a fifth-generation family business. We build on that family with the people we hire and the teams they form. We offer industry leading benefits and a chance to grow with a career that really makes a difference everyday.
AAC:  Besides a great job, what other type of benefits do you offer your employees?
MG:  Merrill Gardens values the health and happiness of our team members by offering industry leading benefits, [including] medical, vision, dental, prescription, company paid life insurance, supplmental voluntary life insurance, disability insurance, generous vacation plans, paid sick leave, holiday pay, flexible scheduling, free meals and uniforms, flexible savings accounts, 401K plan with match, employee assistance program, pet insurance, wellness programs, employee referral program, recognition programs.
AAC:  What do you love most about serving the Auburn Area?
MG:  Providing quality senior living to 140 residents. Merrill Gardens is proud to contribute to stimulating Auburn's economy with the addition of 62 jobs.
AAC:  Why is the Auburn Area a great place for senior living?
MG:  The city of Auburn offers friendly and responsive leaders such as our Mayor [Nancy Backus] and institutions such as our medical facilities, police and fire departments.
AAC:  Your Auburn Senior Living Community is located right in the heart of downtown Auburn. What are the benefits to living downtown for your senior residents?
MG:  The community is close in proximity to a major health care facility, local shopping, the train station and major highways.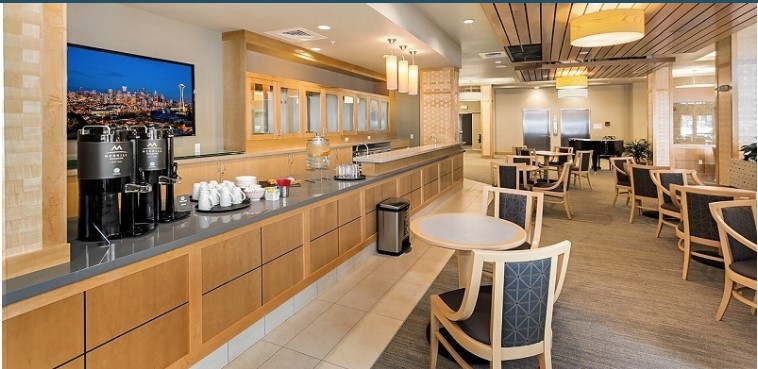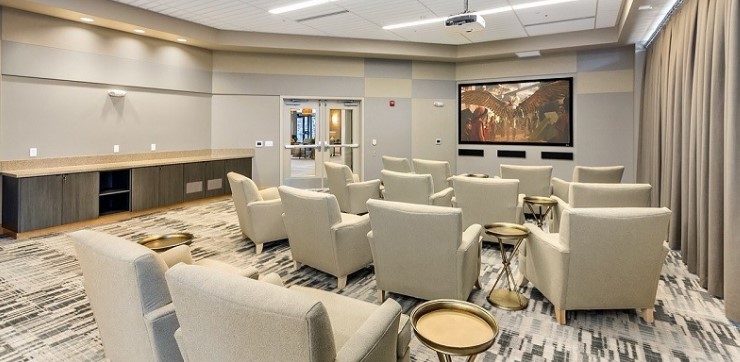 AAC:  In what areas will Merrill Gardens grow and evolve over the next several years?
MG:  We are growing in a number of states across the country with the addition of 26 communities in a joint venture that will close early next year. This exciting acquisition provides an important chance for us to expand our footprint and diversify our senior housing product by entering the more moderately priced market and offering quality senior living to residents who are focused on that price point.
AAC:  How is being a part of the Auburn Area Chamber of Commerce valuable to your business?
MG:  The Auburn Area Chamber of Commerce has been very instrumental in serving as a liaison between Merrill Gardens and the Auburn community.
Thank you to everyone at Merrill Gardens for welcoming us to your business, showing off your facility in downtown Auburn, and sharing more about what makes the Auburn Area a great place to live and work. Learn more about Merrill Gardens at merrillgardens.com/.