The Auburn Area Chamber of Commerce is delighted to recognize HBT Insurance/Leavitt Group Northwest as the Auburn Area CONNECT January 2020 "Business of the Month."
HBT Insurance has served the Auburn Area for over 80 years and just recently merged with Leavitt Group, a national mortgage firm, while maintaining local co-ownership of the company. With six offices already serving the Puget Sound region, located in Everett, Federal Way, Friday Harbor, Oak Harbor and University Place, in addition to the office in downtown Auburn, business leaders expect the company to double in size over the next two years. HBT/Leavitt Group Northwest, however, maintains their strong local connections with community and non-profit groups and encourages their staff to volunteer and support civic organizations.
Each month, the Auburn Area Chamber recognizes an extraordinary member business in the Auburn Area that employs local professionals, provides a consistent and superior customer experience, and remains actively engaged in the Auburn Area community, all while delivering exceptional products and services.
This month, we are proud to recognize HBT/Leavitt Group Northwest as our January 2020 Business of the month.
*****
Bill Cowart, HBT/Leavitt Group Northwest Managing Partner, shared more about his business, their services, and their involvement in the Auburn Area community in this recent interview with chamber staff.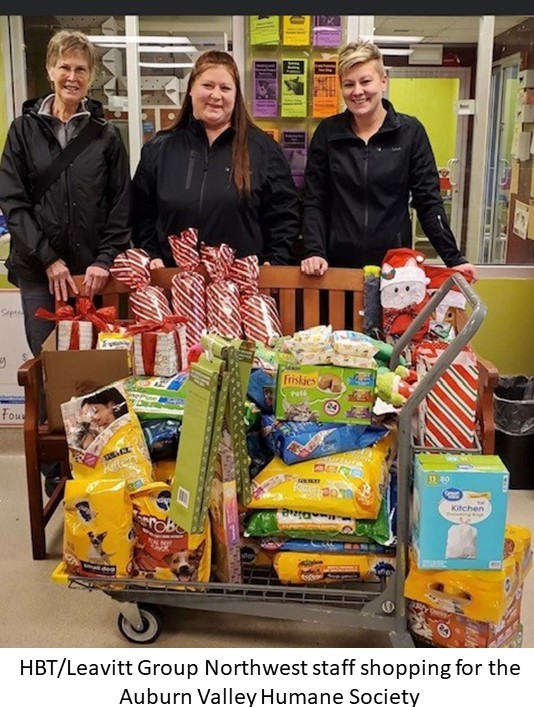 Auburn Area Chamber (AAC):  Tell us more about the business and anything chamber members might want to know about HBT/Leavitt Group Northwest.
HBT/Leavitt Group Northwest (HBT):  We are a Property and Casualty/Employee Benefits/Life and Health Insurance Brokerage. As [HBT Insurance], we have operated in the Auburn Area for more than 80 years. Recently, we merged with the Leavitt Group, who are among the largest privately-held brokerages in the nation, and kept local co-ownership in place. The merger has given us the market presence to bring our clients national resources and sophisticated risk management solutions.
AAC:  How many employees do you have here in the Auburn Area?
HBT:  Twenty-two of our 81 employees work in Auburn.
AAC:  Why is HBT/Leavitt Group Northwest a great place to work?
HBT:  Our governing principles reflect our commitment to our employees. They are: [1] Commit to our community, [2] Foster an enviroment of teamwork, [3] Be honest and operate with integrity, [4] Communicate with reason and civility, [5] Serve clients, carriers, partners and colleagues.
AAC:  Besides a great job, what other type of benefits do you offer your employees?
HBT:  401K contribution plan, 37.5 hour work week, wellness programs, HSA contribution, work from home, access to local management in all of our offices, opportunities to win vacations, reimbursement for joining civic clubs, time off to support civic duties, education reimbursement. [Additionally,] our employees benefit from the best medical and retirement programs possible.
AAC:  What do you love most about serving the Auburn Area?
HBT:  Connections with other business owners and community members, whom we have known most of our lives (some we went to grade school with in Auburn).
AAC:  Are there any specific ways your business gives back to the community?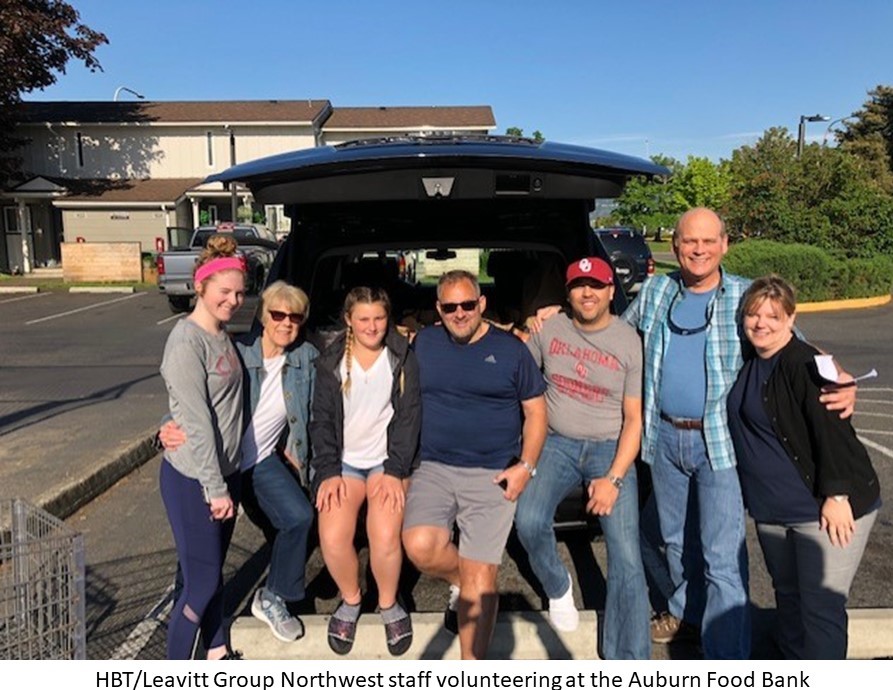 HBT:  We support many non-profits in Auburn and have served or are still serving on many of their boards, [including] the Auburn Area Chamber of Commerce, Auburn Food Bank, Auburn Symphony Orchestra, Nexus Youth and Family Services, Auburn Family YMCA, MultiCare Health Foundation. We also have employees who are members of several local civic organizations, like Auburn Rotary, Auburn Kiwanis Club [etc.]. We donate as a business and personally to all of these organizations with our time and financially.
AAC:  In what areas will HBT/Leavitt Group Northwest grow and evolve over the next several years?
HBT:  We will continue to expand our footprint throughout the Puget Sound region. Currently, we have six offices: Auburn, Everett, Federal Way, Friday Harbor, Oak Harbor, University Place. We expect to double the size of our business in the next two years.
AAC:  How is being part of the Auburn Area Chamber of Commerce valuable to your business?
HBT:  Exposure to the greater business community, including new business in town; the opportunity for involvement in community activities; newsletters keeping us up to date; advertising and sponsorship opportunities. We also hold a deep appreciation for the chamber's advocacy on behalf of all Auburn businesses.
*****
Thank you to everyone at HBT/Leavitt Group Northwest for welcoming us to your business and for the service you provide to our region. To learn more about the business, visit hbtinsurance.com.