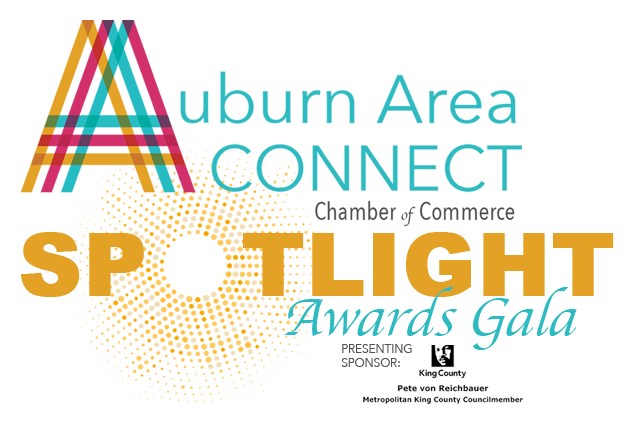 The Auburn Area Chamber of Commerce announced the recipients of the 2019 Auburn Area Connect Chamber of Commerce "Spotlight Awards" at a fundraiser gala on Wednesday, September 25th, 2019, at Muckleshoot Casino & Resort in Auburn. The evening featured a dinner, live music, silent auction and "Dessert Dash." Award winners were named in ten categories.
*****
Congratulations to the follow 2019 Spotlight Award winners:
CONNECT ACHIEVE AWARD | Recognizing an educator who has excelled in creating, implementing or supporting a high-caliber education and/or workforce development system aligned with closing the employment gap.
Dr. Suzanne Johnson, Green River College - "Her no-nonsense approach to change in the education system is elevating GRC to a new level. Her accomplishments have been extraordinary in the short time she has taken over the reigns of the college."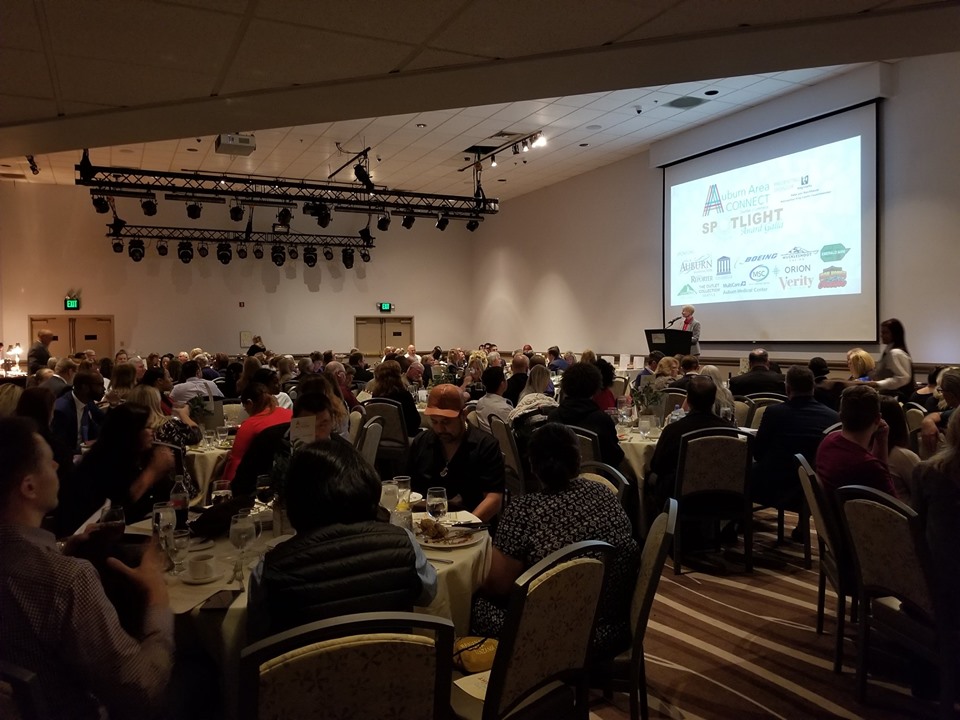 AUBURN AREA CONNECT AWARD | Recognizing a business whose products and/or services have positively impacted the way in which Auburn Area businesses, employers and communities are connected to each other.
Auburn Police Department - "This city agency has impacted the city of Auburn through its Citizens' Academy, Volunteer Program, Community Resource Team, bicycle officers, community events, Auburn Police Officers' Association, domestic violence volunteer advocacy, and Safety Fair."
CONNECT ENVIRONMENTAL PRACTICES AWARD | Recognizing a business that has put a priority on environmental improvement, education or outreach to its business sector and/or community.
MultiCare Auburn Medical Center - "MultiCare constructed a state-of-the-art centralized utility plant. The plant is powered by Variable Speed Frequency drives, motors and pumps for optimal efficiency to only use as much energy as the facility requires at any give time. The Medical Center has two generators for emergency power, eliminating the need to divert during a loss of power. The new generator system is powered by energy efficient natural gas burners. Three new boilers provide the Medical Center's hot water and work in tandem to provide backup in case of down time. Through the building automation system, the hot water supply temperature will vary depending on outside air temperature to further reduce its carbon footprint. The three new state-of-the-art highly efficient chillers operate on a zero-friction magnetic bearing mechanical system. The new mechanical equipment is approximately 30-35% more energy efficient, lowering MultiCare's carbon footprint."
CONNECT IMPACT AWARD | Recognizing a business/person that has had a significant cause-oriented impact in its sector and/or community and contributed to the advancement of the economy.
Orion Industries - "Founded in 1957 as a non-profit organization providing career pathways to individuals with barriers to employment, Orion has a simple belief - good jobs change lives. Helping to remove obstacles to employment is good for workers and the larger community. Orion's transitional employment model has been recognized as a national leader by REDF and Stand Together, philanthropic organizations that fund, support and recognize outstanding social enterprises."
CONNECT ENTREPRENEUR AWARD | Recognizing an entrepreneur whose business is less than five years old and has made a significant impact in their industry and/or the Auburn Area.
CONNECT MINORITY OWNED AWARD | Recognizing a minority-owned business that has attained outstanding business achievement and exemplifies the significant contributions made by minority-owned businesses in the Auburn Area.
Reggie Matto/Clarion Inn Auburn Hotel - "The Clarion Inn earned the recognition of a 3-Star Hotel serving the community, families, schools and business partners around Auburn. Reggie turned a 1-star hotel in Auburn into a 3-star hotel, completing a massive renovation which took almost nine months and $2.8 million, which, in return, created 50 local job opportunities and serves the community. She supports local and small companies by engaging their services to cater the demand and requests from food suppliers, contractors and local suppliers. Her ambition, hard work, determination and enthusiasm in building Clarion Inn Auburn into a success in a short period of time exemplifies her entrepreneurial spirit. She also makes time for charity by donating her time, support and money at Degh Tegh Community Kitchen - a Sikh humanitarian effort preparing weekly meals - having served almost 18,000 meals (so far!) to everyone in need."
EMPLOYER OF THE YEAR AWARD | Recognizing an employer who has implemented innovative job retention, creation, benefits, and/or compensation plans that foster a thriving work environment in the Auburn Area.
Emerald Aire - "Emerald Aire is a 35-year-old company whose home has been in Auburn for the last 17 years. It is a $43 million company employing over 190 team members. In 2000, the corporate structure was replaced and reorganized around a team environment. The difference between a company and a team is that everyone on the team needs to know how to keep score, what they must contribute to make the team a success, and how it all affects the scorecard. The team spirit is alive at Emerald Aire and makes it a great place to work!"
WOMAN LEADER OF THE YEAR AWARD | Recognizing a woman-owned business leader who has attained outstanding business achievement and exemplifies the significant contributions made by women-owned businesses in the Auburn Area.
Brittiany Karlson - "Brittiany is passionate about serving the community while still running her own business, Vinifera. She has taken the lead of the Auburn Downtown Association as a volunteer and has initiated many events to promote Auburn and individual businesses. She supports the 3NO Networking business mixers and is generous with her business and personal resources."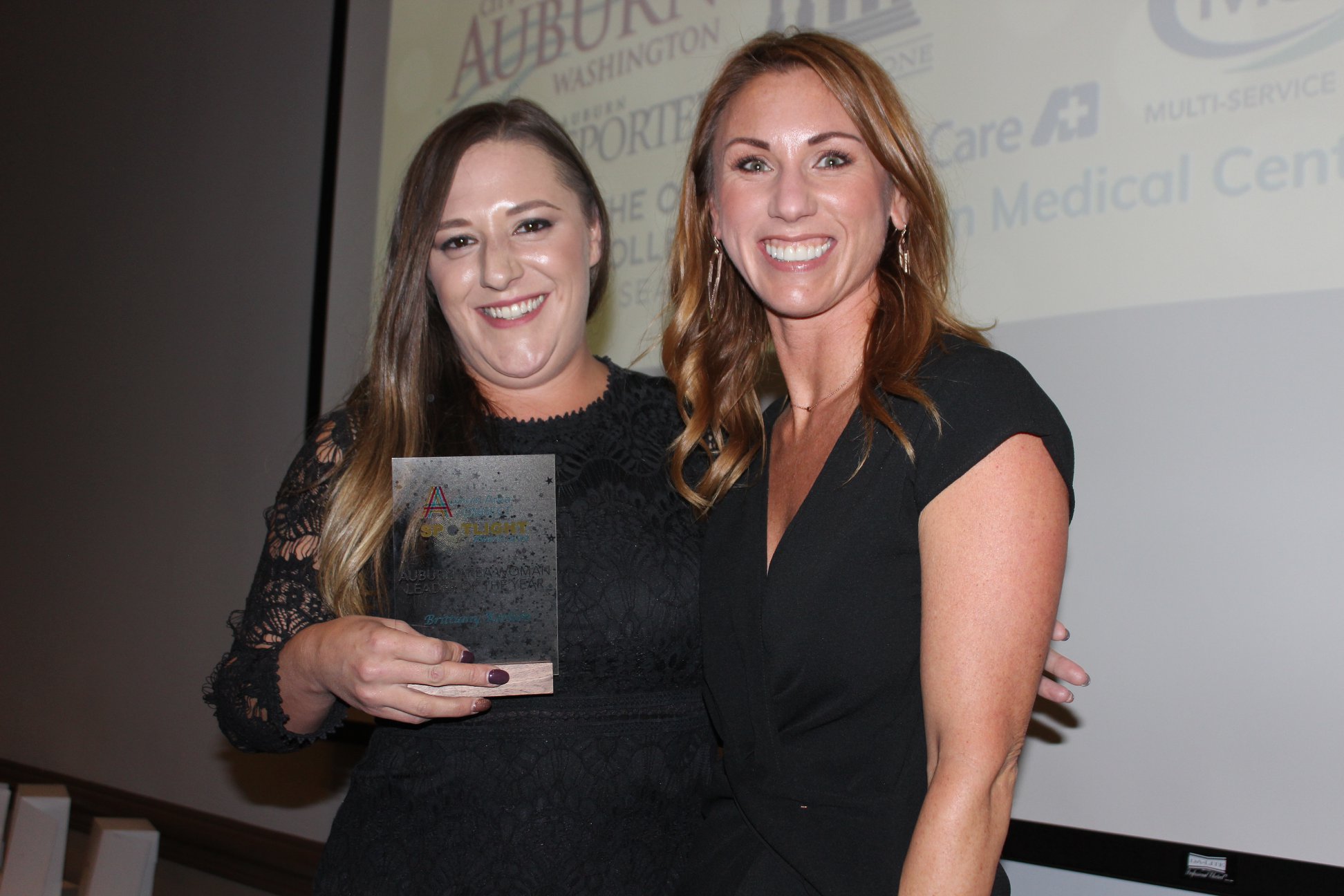 NONPROFIT OF THE YEAR AWARD | Recognizing the success of nonprofit organizations in the Auburn Area.
Battlefield Addiction - "A family-first organization fighting drug addiction in our communities. The organization offers supports for addicts and their families."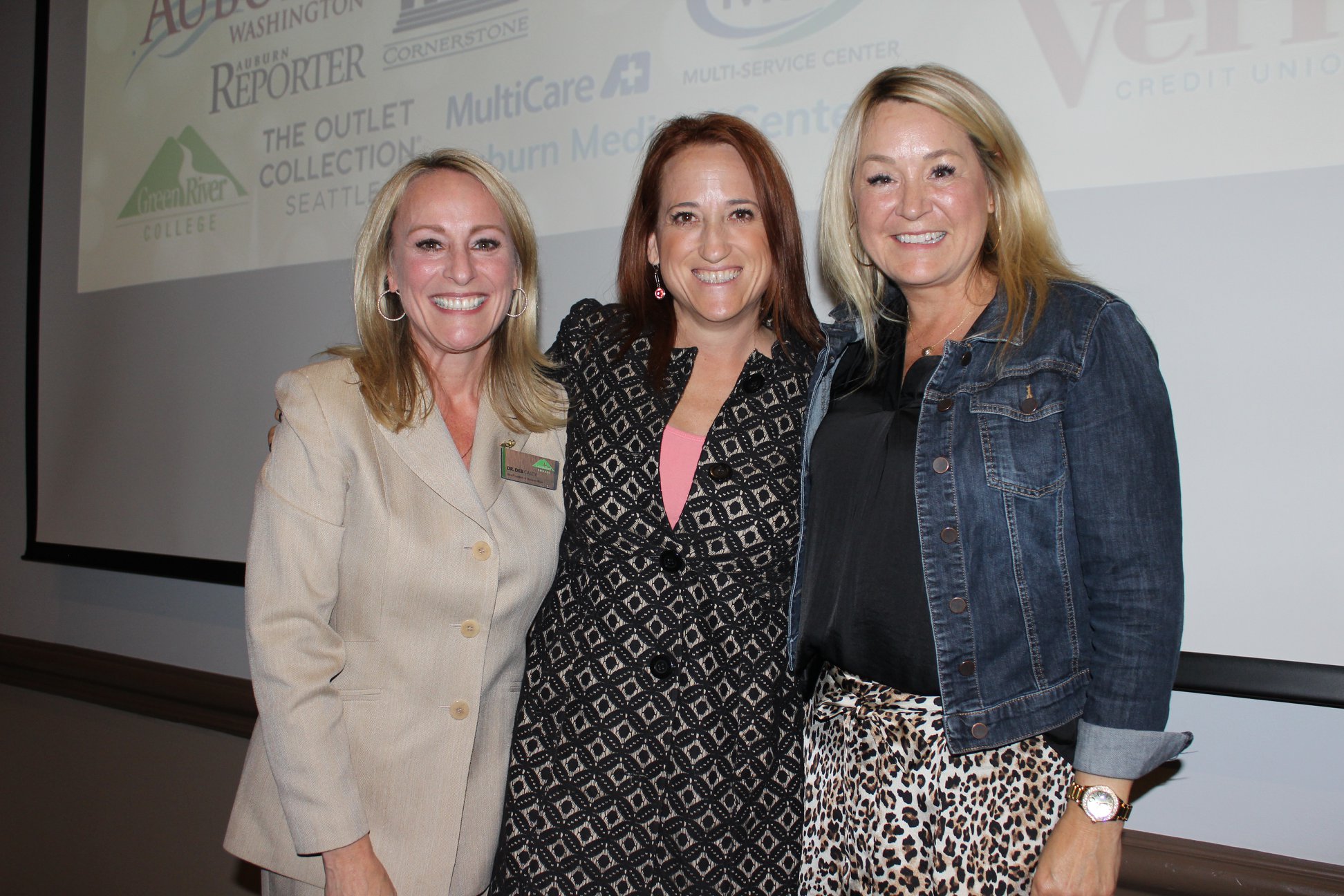 BILL KYLE AWARD | Recognizing an individual who has had an outstanding legislative impact in the Auburn Area.
Leanne Guier, Mayor of the City of Pacific - "Mayor Guier was the leader of a team that rescued the City of Pacific from turning in its Charter at a time of despair and deficits in their budget caused by the lack of ability to secure insurance for their city. She worked with their council and mayors of neighboring cities and counties, and brought the City of Pacific back from the brink. Her concept of team leadership since then has brought Pacific new businesses, allowed other to expand and brought new life to her city."
*** The recipients of the annual Auburn Area Chamber of Commerce "Spotlight Awards" are selected from nominations made in each category by members of the public.